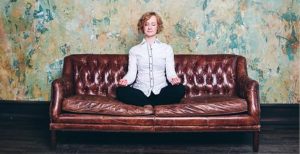 Mindfulness seemed to have hit the streets sometime in 2011.  Williams and Penman brought their book, finding peace in a frantic world, to the shelves and mindfulness meditation seemed to have seriously taken off! Mindfulness is about training the mind to accept thoughts and allowing them to simply be acknowledged. The book reveals a number of simple meditations (there is also a CD in a plastic wallet in the back of the book) which help break the cycle of so many modern day issues such as the cycle of unhappiness, stress, anxiety and mental exhaustion. Mindfulness is about finding moments of peace and promotes acceptance and stillness, physically and mentally.  It is about promoting happiness and confidence levels.
Mindfulness; Finding peace in a frantic world by Williams and Penman (2011).
What is meditation? (here is the popular link to begin your journey of understanding, https://en.wikipedia.org/wiki/Meditation )  It could be said that meditation is the art of contemplation, of thinking or of reflection.  Possibly even considered to be prayer or self-study or rather study of the self. I particularly like the Buddhist explanation.  Meditation is to seek clarity to gain emotional positivity and experience peace, tranquility and calm.
Meditation is about taking responsibility for one's own state of mind. Then to transform one's perspectives positively. Buddhism considers this the only antidote to our personal anxieties, fears, hatreds, and general confusions that beset us as humans.  By understanding our own minds we can transform the way we think, our understanding improves and we become emotionally stronger, transforming to be the best us we can and would wish to be
There are many differing types of meditation, which I don't wish to go into here.  Rather I will briefly share my own experience. When I first began to meditate, I quickly discovered that I was able to visit very vivid places in my imagination, it was like dreaming while I was awake. During these guided meditations I went to beaches, met with relatives no longer with me, houses in the forest – past life experiences and more! I spend a great deal of my time meditating and continuing this journey in order to gain enlightenment and direction in my life, I am not sure that I could be without these moments in the future – in fact, I do try to meditate daily.  The best time that I have found is early in the morning, the time between awake and asleep. If you are familiar with
 'the secret' and 'the law of attraction' ,  then I would suggest that this is the best time to practice visualizing with your vision boards or for sending messages of gratitude.
In any case, whether it be mindfulness or simply letting learning come to you, I would highly recommend that everyone should at least attempt to learn some meditation techniques and to understand if this highly interesting, effective and calming practice is for you.  If you would like to learn more,
If you would like to understand more and learn the art of meditation , I could help you, please do contact me at: 604 202 7938