Don't need therapy but still want some 'chill-out' or relaxation time?
This about 'me' time – well 'you' time actually!
No answering questions on your part and no therapy.

 Pure relaxation!​​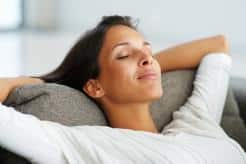 Because this is a way for you to experience the relaxation of hypnosis without therapy as such.

I offer 45 – 60 minute long sessions of pure relaxation hypnosis so that you can just chill with
nothing else to do now, except sit back and enjoy the experience. Many people report that relaxing feeling continuing long after the session has ended, so it can be particularly helpful if you're feeling a little stressed at work or at home right now.
And the sessions are short enough time that you could fit it into your day, perhaps in your lunch hour, without too much interruption, knowing that you're likely to be more productive afterwards. A session of relaxation hypnosis was enough to help a recent client. She went directly to a meeting from our time together to make a pitch – a successful pitch that she had been dreading all day. She was convinced that the time we had had together had made all the difference to how relaxed and confident she had felt as she entered the board room.

Sound like something you could benefit from? 
To Book An Appointment with Lazzaro Pisu Call: 604 202 7938