Porn addiction is as real as other addictions. Of course, not everyone who uses porn is an addict, but if your compulsion to seek out pornographic material seems out of control or is beginning to affect your relationships or career, then you may want help to regain control.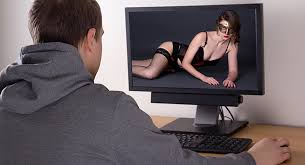 It might be that your excessive use of porn leaves you with little time to interact with your partner or friends. Your porn addiction may mean that you're not getting enough sleep, leaving you feeling fatigued or overwhelmed with day-to-day life. I have had clients who have suffered from depression and self esteem issues because of the shame of their compulsive use or pornography. It is also not uncommon for porn addiction to lead to sexual dysfunction, such as erectile dysfunction and premature ejaculation.
HOW HYPNOTHERAPY CAN HELP WITH AN ADDICTION TO PORN:
Hypnosis is typically used to treat addiction to porn by persuading the subconscious that it is unhealthy and detrimental to your well-being. Positive suggestions are used to help manage the triggers that would ordinarily set off your compulsions. With this form of hypnotherapy treatment, it may be possible to temporarily manage your symptoms, but I have found in my office that eventually the addiction comes back or in some cases it manifests itself in another addiction. For this reason, I would always suggest getting to the root of the addiction so that it is eliminated completely.
PORN ADDICTION AND CURATIVE HYPNOTHERAPY
Lazzaro hypnotherapy works on the cause of the problem. The aim is to identify why your subconscious is reacting in such an extreme way. It is possible through curative hypnotherapy, to re-establish a healthy relationship with porn without it triggering back into an addiction again. In my office, I have treated clients at various stages of their addiction. Whilst everyone's situation is different, the one thing they have in common is that they can't just think their problem away. That's because addiction is irrational. It comes from the subconscious part of the mind.
NEXT STEP…
If you would like to explore further about how curative hypnotherapy can help with porn addiction you can call me at 604 202 7938. Lazzaro provides a safe and relaxing environment in which to explore your issues openly without judgment and free from reliving unwanted emotions. Everything is treated in the strictest of confidence.
To Book An Appointment with Lazzaro Pisu Call: 604 202 7938